Throughout the country, there are countless groups dedicated to improving the lives of animals in any way possible. Most of these groups fly under the radar in terms of recognition and appreciation. But the truth is that without the tireless efforts of so many amazing people, the state of animal homelessness would be in much worse shape. Periodically, I want to shine the spotlight on some of these deserving individuals and organizations. This is the third installment in this series.

Think back to when you were 10 years old. Most of us were probably blessed to experience carefree days that focused on fun and frivolity and not much responsibility. But what if, at that tender age, you and your friends decided to start an animal shelter and ended up caring for hundreds of homeless animals? It's a hard concept for most adults to wrap their brains around because of the dedication and sacrifice involved. But for a special group of elementary school students in the Texas Panhandle, it became their daily life.
The Dalhart Animal Wellness Group and Sanctuary ~ more lovingly known as DAWGS ~ was an idea borne out of necessity. In 2003, Diane Trull's fourth-grade reading class was practicing reading out loud from the local newspaper. When the kids came across a picture of some dogs being held at the pound, they asked what happened to the animals if nobody claimed them. Diane answered honestly that they would be put to sleep.
Although her answer is a sad universal truth for most animals in pounds across the country, Diane's students weren't willing to accept that same fate for the abandoned dogs in their hometown. When the inevitable questions came about wanting to do something to save them, Diane empowered her students to be the change they wanted to see.
The kids started taking the unclaimed animals from the city pound and cared for them at their shelter until new homes were found. But nobody realized that Dalhart, with a population of 7,000, was euthanizing more than 600 dogs a year. DAWGS' population spiked from a handful of dogs to 500 animals practically overnight. Regardless of the weather, which is a mighty force in the Texas Panhandle, the kids showed up after school, on the weekends and during vacations to feed the dogs, clean their pens, keep the water bowls filled and take the dogs for walks. In its 13 years of existence, the sanctuary has rescued more than 10,000 animals.
DAWGS is more than just a second-chance respite for homeless animals. It's a hands-on environment where children between the ages of 8 and 18 learn about commitment, responsibility and giving back to the community. Although the original group of students who founded the shelter has graduated and moved away, DAWGS still finds ways to involve the youth of the area in their mission to save animals. It continues to be a living laboratory where children are taught that they can make a difference in the world by saving one animal at a time.
For more information on DAWGS, please visit www.dawgsntexas.com.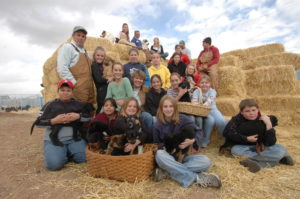 Original group of students who founded DAWGS.