Today, August 15th, is National Check the Chip Day.
Microchipping is one of the latest technological advances that helps keep our pets safe. Microchips are permanent IDs that are implanted into your pet's skin. They don't replace a tag and collar but they can make a significant difference in bringing home a lost pet.
Consider these stats:
• 1 in 3 family pets will get lost sometime during their life
• Microchipped dogs are more than twice as likely to be returned to their owners
• Microchipped cats are more than 20 times as likely to be returned to their owners
But a microchip is only effective if the information that's stored in it is current. When a microchipped pet isn't returned home, it's usually due to incorrect or missing owner information in the microchip registry.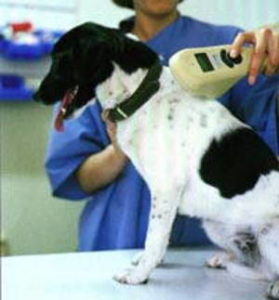 So that's what National Check the Chip Day is about. It's a reminder to update your contact information with the company that provided your pet's microchip.
Just ask the owners of Gidget, a dog with a microchip who lived in Pittsburg, Pennsylvania but was safely found more than 2,500 miles away in Portland, Oregon.
Do your pets a favor ~ don't skip the chip!