There are so many good things about the start of summer. Dealing with fleas isn't one of them.
Let's face it, fleas are a nuisance to our dogs and to us. In addition to making your dog itchy and infesting your home, fleas can transmit tapeworms and cause anemia, especially in young animals. For every flea found on your dog's fur, there are approximately 30 more living in your home.
Instead of using chemical-based products for treating fleas, there are natural alternatives that are equally effective and provide a healthier environment.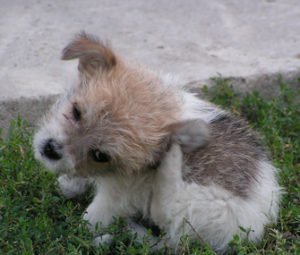 Optimum health
A healthy dog is the best defense for fighting fleas. A healthy immune system is relevant for many things, including fighting parasites. Regular exercise and a high quality diet are essential for optimizing your dog's health. Other complementary therapies that boost the immune system include acupuncture, Chinese herbs and massage therapy.
Frequent washing
During the height of flea infestation, bathe your dog weekly. It's not necessary to use medicinal soaps. A gentle shampoo will kill most fleas by drowning them. Work the shampoo or soap into a thick lather and leave on your pet for 10 minutes. Be sure to rinse your dog completely to remove all of the soap, which will prevent drying his skin.
While you're washing your dog, throw his bedding into the washer, too. Using hot water and a mild detergent or vinegar will significantly reduce the number of flea eggs and larvae on the bedding. Placing it in a hot dryer will also help to kill off pesky fleas. Consider placing cedar chips inside your pet's bed as a natural repellant.
And if your dog sleeps with you, don't forget to wash your own bedding frequently in hot, soapy water.
Essential oils
Natural flea repellant spray can be made by mixing drops of essential oils with water or witch hazel. Lavender, peppermint, rosemary, eucalyptus, lemongrass and citronella are essential oils that repel parasites. Consult with a holistic veterinarian to determine the correct combination and concentration of oils depending on your dog's weight. The solution can be misted or sprayed on a dog's coat using a spray bottle or mixed in with shampoo.
Essential oils also soothe and heal irritated skin while boosting the immune system. Be aware that cats are extremely sensitive to essential oils and require different dosages than dogs. Do not use the same spray on both species. 
A stitch in time
Toxin-free solutions for flea control can be more time consuming and labor intensive than traditional chemical treatments, but it's worth the investment for the sake of your dog's health.