I recently witnessed a blind woman and her guide dog navigate across a busy intersection. I was in awe as I watched their connection, which is obviously founded on a deep level of trust and intuition.
As soon as the duo crossed the street, I saw a mother and her two small children approach the dog and try to pet it. The guide dog's owner seemed caught between trying to accommodate the excited youngsters yet continuing on her journey.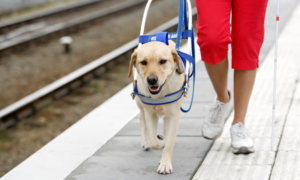 There's a lot that goes into getting a guide dog ready to be a reliable partner. On average, guide dog candidates spend two years learning basic commands, getting accustomed to wearing a harness, learning how to clear their person around obstacles and more importantly, learning intelligent disobedience, which means refusing to go when it's not safe.
Once a dog has successfully completed its guide training, additional time is spent training the handler and dog to work together as a team. The trust that has to be established is what enables a blind person to live an independent life.
Most of us are fortunate in that we have a friend or a partner who keeps an eye out for us. For a blind person, the guide dog serves that role. Distracting a guide dog can create a dangerous situation for both the dog and its handler.
Here are some guidelines to follow if you're unsure about how to approach a guide dog team:
Always greet the owner first and ask the owner's permission to pet their guide dog. Many people enjoy introducing their dogs when they have the time but blind people have busy lives and may not have the time to stop and chat.
Don't offer a guide dog any food or treats. Food rewards are used as a motivational and training tool and those rewards should only be given to the dogs by their handlers. And because guide dogs often visit restaurants and grocery stores, they are trained to ignore food. Offering them food not only distracts them, it negates their training and also can make them sick.
Don't call out, whistle or otherwise distract a working guide. Allow the dog to concentrate and perform for the safety of its blind partner. A guide dog in harness is "on duty," even when sitting or lying down.
If you are in a car, don't honk the horn or call out directions. Handlers listen to traffic flow and other environmental sounds to decide when it's safe to cross a street.
Always remember that a guide dog and its handler have the right of way!