Here's an impressive statistic: the average dog's nose is tens of thousands of times as sensitive to odors as a human nose.
What that means in simpler terms is that while we may notice if there's sugar in our coffee, dogs can detect a teaspoon of sugar in a million gallons of water, or the equivalent of two Olympic-sized pools.
Because of their amazing olfactory receptors, the University of Washington's Center for Conservation Biology founded Conservation Canines (CK9), a dog-detection program that trains dogs to sniff out the scat, or feces, of endangered species.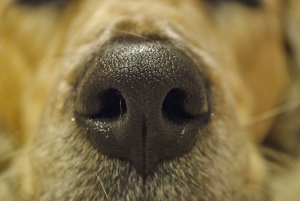 Why track scat?
Scat is the most abundant and accessible wildlife product in nature. It contains a huge amount of genetic, physiological and dietary information about animals. From scat samples, researchers can extract DNA, hormones and toxins and use the data to determine the causes of population decline within a geographical area.
The ideal scat detection dogs have obsessive, high-energy personalities. They are intensely focused and have an insatiable urge to play. While these traits make them less-than-ideal family pets, they are exactly the type of dogs that the University of Washington prefers. As a result, almost all of the CK9 dogs are rescues from animal shelters within the Washington and Oregon area where the odds are pretty high that they would be euthanized because of their hyper behavior.
Since its founding in 1997, the CK9 program has monitored a variety of threatened and endangered species around the world, including tigers, orcas, fishers, spotted owls, bears, wolves, caribou, giant armadillos, giant anteaters, pumas, jaguars and Pacific pocket mice.
I guess you could say that tracking scat gives new meaning to the phrase "one's trash is another's treasure."